Scarborough statue paint attack 'could be anti-Semitic'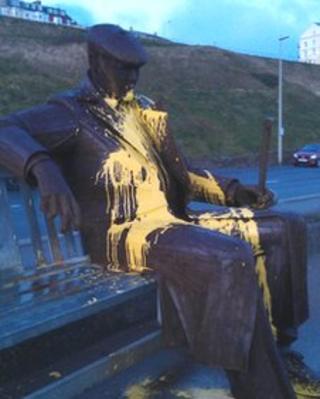 Police say they are not ruling out the possibility a statue of an old soldier in Scarborough may have been covered in yellow paint in an anti-Semitic attack.
The North Bay steelwork, which depicts one of the first Allied soldiers to enter the Belsen concentration camp, was daubed in paint on Thursday night.
Officers said they were keeping an "open mind" about the motives behind the vandalism.
A local resident donated £50,000 to keep the statue in the town last year.
The piece, called Freddie Gilroy and the Belsen Stragglers, is based on a former miner who was one of the first soldiers to enter the concentration camp on its liberation in the final days of World War II.
'Twisted rant'
The artwork, which shows the old soldier sitting on a bench, was created by artist Ray Lonsdale.
The artist said he hoped the use of yellow paint was not an act of anti-Semitism to coincide with Holocaust Memorial Day.
Mr Lonsdale said: "I am just hoping it isn't some twisted anti-Semitic rant.
"The real Freddie - and the people of his generation that the sculpture represents - came through a lot worse and I am sure the sculpture will do the same."
The statue had been loaned to the town by Mr Lonsdale last year and local pensioner Maureen Robinson used her life savings to ensure the piece could remain permanently in Scarborough.
Mrs Robinson said she had been left "deeply upset".
Insp Tony Quinn, of Scarborough's Safer Neighbourhood Team, said: "The statue is much loved by people in the town and many residents are very angry about this mindless vandalism.
"I am not aware of any anti-Semitism in the town, albeit the statue has a reputation beyond the town.
"We keep an open mind on such things and we will take it into account."
'Absolutely despicable'
Tom Fox, Conservative leader of Scarborough Borough Council, described the vandalism as a "mindless and pathetic act".
He said he had pledged £100 for information which leads to the conviction of those responsible.
Karen Pollock, chief executive of the Holocaust Educational Trust, also condemned the attack.
"To deface a statue dedicated to British troops who liberated Bergen-Belsen would be an appalling act any time, an insult to both the victims of the Holocaust and the veterans who witnessed scenes of profound horror.
"For such an act of vandalism to take place on the eve of Holocaust Memorial Day is absolutely despicable."
Scarborough Borough Council said its graffiti team had removed "99%" of the paint from the statue, but it would take some days for it to be completely eradicated.