North Yorkshire charity sees increase in homeless youngsters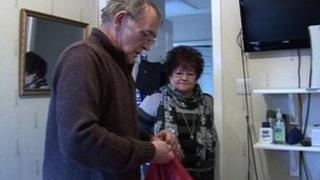 A charity operating in a county regarded by most as reasonably affluent says demand for its Nightstop emergency shelter for homeless youngsters is increasing.
The York-based charity Safe and Sound Homes (SASH) has revealed that in the last couple of years demand for its services has jumped by a third.
And the organisation has said there is a "desperate need" for more volunteers to join the scheme providing temporary accommodation to 16-to-24-year-olds.
In the past 12 months the service has seen 120 young people offered accommodation against 84 who contacted the charity in 2009.
One teenager, sixteen-year-old Liam, has been "Nightstopping" for the last three weeks in the York area, but still manages to keep his studies going at a college.
He has stayed with different volunteer hosts over the last 21 nights.
'Life expectancy'
He said: "It's meant quite a lot, because if it wasn't for Nightstopping, people who let me into their home, then I'd be on the streets.
"I have hot food, so it's quite a good project they're running here."
The charity said demand for its services was increasing in the more rural parts of the county where alternative services for the vulnerable young were less readily available.
Peter Robinson, the director of Safe and Sound Homes, said: "On average, the life expectancy for a homeless person is just 47 years old.
"If someone comes forward and they have a spare room and would like to be a host, they can make such a difference to that young person.
"They can stop them from embarking on a cycle of homelessness and unemployment that can end in that sort of early death."
One couple, Barbara and Keith Anderson who work with the charity, have offered their spare room to more than 20 homeless teenagers.
Ms Anderson said: "It's upsetting because the youngsters really want to be at home.
"The biggest thing you need is patience and understanding.
"They do have problems, if they didn't have problems they would still be at home.
"The youngsters all have different problems and they're all individuals, but it is so rewarding when you see it 'work out."
In a statement SASH said: "Whilst it's too early to say that 2012 will be even busier for us, the indications are that this will probably be the case.
"Around 50% of young people referred are 16-17 years old, and are homeless due to family breakdown.
"We are concerned that we may be seeing an increase in referrals as the economic climate continues to create pressure on families and contribute to such breakdowns."