Agreement reached over Harrogate Royal Hall future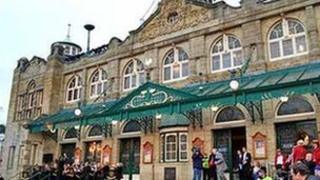 The future of Harrogate's Royal Hall, which costs taxpayers almost £1,000 a day to run, has been secured.
Harrogate Borough Council's Cabinet has agreed to a deal that would transfer the running of the building to the board of Harrogate Theatre.
The grade II listed building lost £360,000 in 2010 and is projected to lose almost £250,000 in 2011/12.
The theatre will receive a one-off grant of £105,000 and will take over running the Royal Hall from April 2012.
The Conservative-run council has been looking for solutions to mitigate the burden on taxpayers and approached Harrogate Theatre with a view to it taking control.
Under the agreement the theatre will be responsible for a programme of up to 60 commercial events at the Royal Hall during 2012/13.
The council will remain responsible for technical and cleaning services.
The authority said it hoped this solution would increase the usage of the building and reduce the financial risk to taxpayers.