Harrogate hospital 'must find £7m of savings'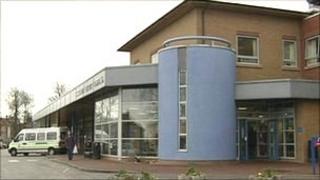 Harrogate hospital has revealed it must find £7m in savings in the next financial year.
Harrogate and District NHS Foundation Trust said it was a result of a reduction in the amount of government funding it would receive.
The trust declined to give any details of what cuts would be made at a Board of Governors meeting on Wednesday.
It is already facing a £1.185m overspend for 2011 due to falling income and increased spending on pay.
Richard Ord, chief executive of the trust, said at the meeting that the trust was in the process of informing staff of the need for savings.
In a report to the board, the finance director highlighted the need for action on the trust's current financial position.
Private income fallen
Jonathan Coulter said: "Across the trust we have spent more on pay than planned in the eight months to November, which relates to costs of medical staff covering vacancies and staff sickness, particularly in the Emergency Department.
"Without taking any further action, the year end position would be £1.185m overspent against plan, which will significantly reduce the availability of capital funds for future developments."
He said the trust's income from private and NHS patients had also fallen.
The trust confirmed it was consulting with staff on the best way to "reconfigure services" which could involve a reduction in bed numbers.
It said it was not planning any redundancies.
Andrew Jones, the Conservative MP for Harrogate, said he was concerned to hear the hospital would have to make changes to services.
He said: "It was made clear in the finance director's report that this shortfall was largely due to a drop in income. Much of this shortfall occurred because the trust is treating fewer private patients than projected in its budgeting.
"I spoke to Sandra Dodson, chairman of the trust, as soon as the budget shortfall was announced. Ms Dodson assured me there will be no cuts to services."