University of York chemistry department fire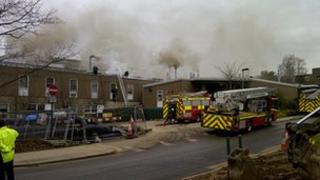 Four hundred students were forced to leave a building when a large fire took hold in a chemistry department at the University of York.
Fire crews were called to the building in Alcuin Way, Heslington shortly before 13:00 GMT on Thursday.
Officers from North Yorkshire Fire and Rescue described the fire as large but brought it under control by 16:00 GMT.
Investigations into the cause of the blaze have begun. Deliberate or suspicious causes have been ruled out.
Burning smell
Student Daniel Cain, who was working in Block B when the fire broke out, said: "We heard the alarms and left the building. I only found out the extent of the fire later.
"There is certainly going to be a lot of damage looking at the roof now and from all the smoke in that top room."
Olivia Wale, a second year chemistry student, had been working in the building when the fire broke out.
She noticed a smell of burning earlier in the day but thought it was caused by contractors using tar whilst working on the roof of the building.
Ms Wale said: "We could smell burning at around 12:00 and then we went for lunch. But when we returned it was really smoky and then a few moments later the alarms went off."
Ollie Brown, a third year chemistry student, was working in a neighbouring block when the alarm went off.
"I was doing a couple of reactions to find anti-cancer agents but they'll have boiled over by now.
"It looks pretty grim. I think that is the instrument rooms and I suspect there is a good few hundred thousand pounds worth of damage in there."
'Lost course work'
Trevor Lunn, from North Yorkshire Fire and Rescue, said investigations into identifying a clear cause of the fire would begin on Friday.
He said: "At this stage we aren't looking for any suspicious or deliberate cause.
"The main focus is on some of the systems in the building which may have had something to do with the fire."
David Duncan, registrar and secretary at the University of York, said he was pleased they had been able to evacuate everyone in the building so quickly.
He added: "We are still assessing the extent of the damage. It is a block we use for undergraduate teaching and some research activities so there will be some loss of course work."
The chemistry block contains expensive equipment but Mr Duncan said it was too early to assess how much equipment had been damaged or lost.
Mr Duncan said they were keeping students informed and would be making alternative arrangements for teaching.