March against Friarage Hospital paediatric closure plan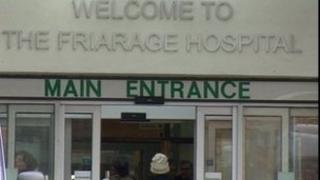 A council leader has backed a planned march against the possible closure of the paediatric department at a North Yorkshire hospital.
Richmondshire Council leader John Blackie said he would meet William Hague next week to discuss the plans for Friarage Hospital in Northallerton.
The foreign secretary and Richmond MP will also be asked to personally address the march.
It is expected to take place in April or May.
The march will be lead by pregnant women, followed by mothers with babies in prams, then older children and their parents.
Around 250 people attended a public meeting on Thursday to express concerns about the proposals.
It follows a National Clinical Advisory Team (NCAT) report which said the unit at the Friarage Hospital in Northallerton was not sustainable.
It could lead to services moving to James Cook Hospital in Middlesbrough.
'Hands off'
Mr Blackie said the demonstration would take place on a Saturday in April or May, and will go from County Hall through Northallerton, ending at the hospital.
The independent councillor said: "The main message of the march will be hands off the Friarage, as it's that important to us all."
He added: "The emphasis will be on families, which is what this is all about."
The Hambleton, Richmondshire and Whitby Clinical Commissioning Group (CCG) said senior doctors at the Friarage had raised concerns about the long-term sustainability of some services.
The CCG aims to take control of local NHS decision-making in 2013 and it decided to commission the NCAT report.
Dr Vicky Pleydell, who commissioned the report, said as a smaller hospital it faced a number of challenges.
She said: "I must stress that this is not about saving money but more about using the available money to invest in good quality and safe services that can stand up for years to come."
The report will be considered by NHS North Yorkshire and York, the CCG and the South Tees Hospitals NHS Foundation Trust, which runs both the Friarage and James Cook hospitals.
The hospital has 230 beds and serves 122,000 people.
A consultation process is expected to last for a year.