York hosts 21-gun salute to mark Queen's accession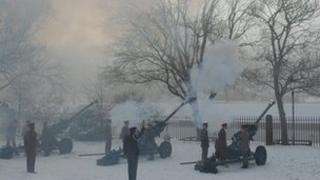 York has held a 21-gun salute to mark the 60th anniversary of the Queen's accession to the throne.
The city is one of 12 UK sites to stage the Accession Day ceremony. It is held each year on 6 February, the date the Queen's father George VI died in 1952.
Soldiers from the 35 Battery and 39 Regiment Royal Artillery fired the three 105mm guns in the Museum Gardens.
York was awarded the status of a saluting station in 1971 to mark the city's 1,900th anniversary.
It is the only saluting station in the north of England.
The artillery detachments were accompanied by a parade of saluting troops from the Heavy Cavalry and Cambrai Band, who were inspected by the chairman of NHS Yorkshire and the Humber, Kathryn Riddle.
The salute marked the start of the Diamond Jubilee celebrations.