Scarborough gas leak homes evacuated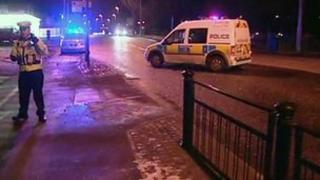 Dozens of residents who were evacuated from their houses in Scarborough following a gas leak are spending the night in a hotel.
About 150 properties within a 100m (328ft) radius of the leak on Seamer Road were originally evacuated.
Some residents were later allowed to return home but Northern Gas Networks said people living in 24 homes on Seamer Road would stay in a hotel.
Work to repair damage to a gas main was expected to continue through the night.
Seamer Road remains closed between Valley Road and Queen Margaret's Road.
North Yorkshire Police said it was alerted to the gas leak at 12:50 GMT by Northern Gas Networks.
The gas company said a contractor working for them on a planned upgrade of the gas mains had damaged a gas pipe during "routine work".
'Bit of a shock'
Gwen Allen, from Northern Gas Networks, said: "We will carry out an investigation afterwards, the priority for us now has to be safety and getting the repair done and get people back into their homes."
Ms Allen said the firm would "work through the night" to carry out and finish the repairs. She said the damage was expected to be fixed by 07:00 GMT on Wednesday.
Two schools - Springfield Special School and Hinderwell - were also evacuated.
Affected residents were initially offered help and warm drinks at Falsgrave Community Centre.
Centre manager Phil Armitage said: "This was a bit of a shock, it all happened very quickly.
"We've been told to expect over 100 people, for the moment we've had about 25 people come in."
"We will be open until we are told by the emergency services to stand down."