York City FC reject Conservative proposals on stadium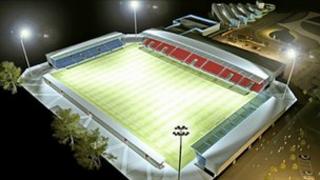 York City Football club has said a new proposal to secure its future is "unworkable".
Currently, the club supports proposals to move to a new community stadium to be built on the edge of the city.
But Conservative councillors say the scheme is financially risky and the Labour-run council should instead redevelop the club's existing ground.
York City said the Conservative proposals were "unhelpful" and would not guarantee the club's survival.
The council, which has not commented on the club's claim, has already earmarked £4m towards the scheme but Conservative group leader Ian Gillies said using the cash to redevelop Bootham Crescent would pose less risk to taxpayers.
'White elephant'
Mr Gillies said: "No-one wants to see the demise of York City Football Club but there is no credible business plan for the new stadium.
"My biggest worry is the ongoing running of the place once it is built. Nobody has said who is going to run it, is it going to be a leisure company that is going to run it that sub lets to the football club?
"I am really concerned it will become a white elephant."
Under the plan, York City and York City Knights Rugby League Club would relocate to a new 6,000-seat stadium at Monks Cross, on the edge of the city.
It would be part of a new shopping development which also includes plans for 100,000 sq ft (9,290 sq m) John Lewis store.
Sophie Hicks, club communications and community director, said she was "disappointed" by the Tories' "unworkable" proposal.
"The Community Stadium continues to be the only viable option for York City Football Club and we continue to fully support the planning application," she said.
She said to re-develop Bootham Crescent, built in 1932, to the standard needed, would cost between £8 and £10m and would involve purchasing neighbouring land.
Mrs Hicks added the club would be forced to play at an alternative ground outside the city during any redevelopment.
She said that if the club was to re-develop its current ground instead, a £2m loan fom the Football Foundation to help it move would have to be paid back.
The planning application for the community stadium and shopping development by Oakgate (Monks Cross) Ltd will be considered by the council in March.