Ballot for York Minster Maundy service tickets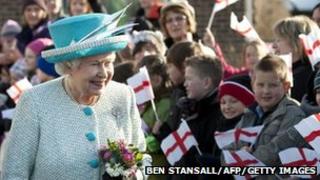 A public ballot is to be held for people wanting tickets to the Maundy service at York Minster on 5 April.
It was confirmed in January the Queen had chosen to hold the ceremony in York for the first time since 1972.
The Dean of York, the Very Reverend Keith Jones, said the public ballot would be open to all people living in the Anglican Diocese of York.
People wanting to attend the service on Maundy Thursday should apply in writing by 24 February, the dean said.
He said: "We at York Minster are thrilled that the Queen has decided to distribute the Royal Maundy at York Minster in Her Majesty's Diamond Jubilee Year.
"It is our hope to enable as many members of the public as possible to be inside the minster during the service for this royal and beautiful ceremony."
On 5 April, the Queen will ceremonially distribute small silver coins known as Maundy money.
Those chosen to receive Maundy money are usually individuals recognised for their contribution to the Church and their communities.