York Water End flood defence scheme to go ahead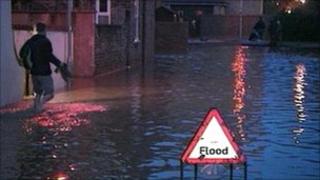 The government has approved funding for a £3.2m flood defence scheme in part of York.
The Water End/Leeman Road scheme is designed to protect about 400 homes and businesses.
Funding was turned down in 2011 but the City of York Council stepped in with a £1m contribution to the scheme.
A scheme to increase flood protection for more than 200 homes and businesses in Northallerton has also been approved.
Existing flood defences in the Leeman Road area were first built in the 1970s but were overtopped during severe flooding in 2000.
Huge relief
The new scheme includes a brick flood wall, temporary removable defences, and increasing the size and height of some of the existing flood embankments.
Bethany Gardner, Environment Agency project manager, said: "A significant financial contribution from City of York Council last year enabled us to continue with our design and preparatory work.
"We have now secured funding and plan to start construction in autumn 2012."
A planning application for the work is expected to be submitted in March or April, she added.
The Labour-run council said the news would be a huge relief for local residents.
Councillor Dave Merrett said: "We have committed a significant sum of local money to help secure this scheme and enable an improved standard of protection for the Leeman Road area."
The Environment Agency said it had also secured funding to spend £1.9m in Northallerton reducing the risk of flooding to 212 properties.
Work to repair culverts and storage areas on the Sun and Turker becks will begin later this year, the agency said.