Harrogate councillors object to Allerton incinerator plans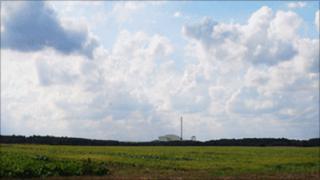 Councillors in North Yorkshire have raised "strong objections" to plans for a multi-million pound incinerator.
A report had recommended Harrogate Borough councillors should not object to the £65m plant at Allerton Quarry.
But 14 out of 15 members of the planning committee voted against the recommendation amid fears over its impact, while one councillor abstained.
North Yorkshire County Council will make a final decision on the planning application later this year.
The waste-to-energy plant, between York and Harrogate, would be built and managed by Amey Cespa on behalf of the City of York Council and North Yorkshire County Council, using private finance initiative funding.
'Adverse impact'
Councillors in York made no objections when they considered the application in December.
But Harrogate councillors said they did not agree with the recommendation that no objections be raised.
Councillors agreed it was "contrary to Harrogate Borough Council's core strategies and local plan policy".
They also said they had concerns over the size of the planned site, its effect on nearby roads, and its "adverse impact" on the local countryside.
North Yorkshire Waste Action group, which is opposed to the plans, welcomed the move by councillors saying it was a "massive boost" to the campaign against the incinerator.
North Yorkshire County Council said it was inappropriate to comment on the objections raised by Harrogate's councillors while the planning application process was continuing.