Easingwold supermarket plan could 'harm' trade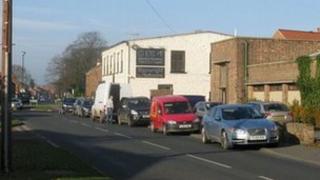 A new supermarket planned for Easingwold could harm existing shops, according to a new report.
Planning consultants, commissioned by Hambleton District Council, said the store could divert trade from the town centre.
Retail Development Partnership has applied to build the 20,000 sq ft (1,858 sq m) store on Stillington Road.
The developer declined to comment on the report but said the scheme offered shoppers more choice.
Hambleton District Council asked planning consultants England & Lyle to review the retail assessment provided by the developers as part of their planning application.
The report claims the supermarket would damage the vitality and viability of the town centre.
'Historic centre'
England & Lyle said the impact would be most felt by convenience goods shops, which could close as trade was diverted to a new supermarket.
The report added: "Easingwold is an attractive market town which is based around its historic town centre.
"A loss of trade in the shops in the town centre could harm the character of the town centre."
Retail Development Partnership has declined to say which supermarket chain might operate the proposed site.
The company's application insists the development would make Easingwold more self-sufficient in retail terms and would benefit the town.
It said the plan would offer more choice to shoppers.
Hambleton District Council will consider the planning application, which has attracted more than 200 comments, on 1 March.