RNLI's highest honour for Scarborough lifeguard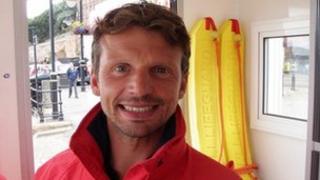 The rescue of a kayaker from rough seas off Sandsend has earned a lifeguard one of the RNLI's highest honours.
Shaun Messruther, from Scarborough, will receive the Thanks Of The Institution inscribed on vellum for his part in the rescue near Whitby.
Mr Messruther, 40, used a rescue board to paddle around 330 ft (100m) from the shore to reach the man in August 2011.
The RNLI said the man would have drowned had it not been for Mr Messruther's actions.
Mr Messruther, an RNLI lifeguard supervisor, was on a routine patrol at around 12:30 BST on 30 August 2011 when he was informed that a kayaker was in difficulty.
After swimming through large breaking waves he found the man had swallowed a lot of water and was very ill.
'Challenging rescue'
Mr Messruther managed to get the man on to his rescue board but it then took three attempts for the inshore lifeboat crew to get the man on board and return to shore.
Darren Lewis, RNLI lifeguard inspector, said: "This was a challenging rescue and the lifeguards and lifeboat crew worked well together in very difficult conditions to ensure this man was saved.
"Shaun's high fitness level, local knowledge and expertise in the surf all contributed to the positive outcome of the service."
Mr Lewis added: "If he had not risked his own life then the casualty would most certainly have drowned."
The kayaker, who has not been named, was given first aid on the beach after his rescue and was then taken to hospital.
Two other lifeguards Daniel Wordsworth, 22, and Calum Norman, 18, are to receive a letter of thanks signed by the RNLI Chairman for their involvement in the rescue.
The helmsman of the Whitby RNLI lifeboat crew, Hugh Ramsden, 47, and crew members Jamie White, 30, and Stephen Boocock, 31 have also been recognised for the part they played.