Royal Dragoon Ashley Smith killed by hidden Afghan bomb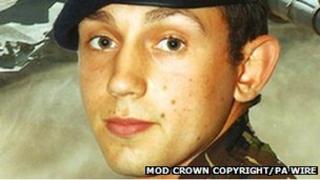 A North Yorkshire soldier died after stepping on an improvised explosive device while serving in Afghanistan, an inquest has been told.
Ashley Smith, 21, from York, was killed on 18 June 2010 as he helped to remove trees from near a checkpoint in Helmand province, York Coroner's Court heard.
The court was told that Trooper Smith, of the Royal Dragoon Guards, received "devastating injuries".
The coroner recorded a verdict that he was killed while on active service.
Earlier, the court had been told that Trooper Smith and his colleagues were using metal detectors to ensure the area was safe before they placed specialist equipment, known as fascines, into a ditch to enable their vehicles to cross.
'Known no pain'
The explosion happened as the soldier and a colleague carried one of the fascines towards the ditch.
Coroner Donald Coverdale said Trooper Smith had been the lead man carrying the fascine and he had triggered a hidden improvised explosive device (IED).
"He will have known no pain from this incident, he would have been unconscious immediately," said Mr Coverdale.
"These injuries were such that it would not have been possible to survive, not [with]standing the heroic efforts that were made."
The inquest heard that Trooper Andrew Clibery was the first soldier to reach Trooper Smith following the explosion.
Another medic and a doctor helped at the scene, carrying out resuscitation and other treatments on the soldier before he was taken to hospital at Camp Bastion by helicopter.
'Hearts go out'
The inquest heard that resuscitation attempts continued throughout the journey and at the hospital, where the soldier was pronounced dead.
Mr Coverdale said the medical team had done their best to try to save Trooper Smith, who had injuries to his torso, legs and arm.
Concluding that Trooper Smith died from injuries inflicted by an IED while on active service in Afghanistan, Mr Coverdale said his verdict reflected the nature of the soldier's actions and the service he had given to his country overseas.
Speaking after the inquest, Trooper Smith's sister Sadie Gelderd praised the "high standards" of the medical team who treated her brother.
"Now we can have some closure and our hearts go out to the soldiers who were there at the time of Ashley's death as they did what they could for Ashley."