Yorkshire Air Ambulance 'should get fuel VAT refund'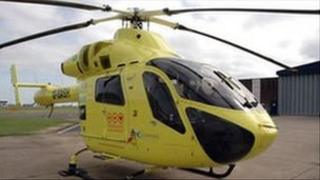 A Yorkshire MP has said VAT paid on fuel for air ambulances should be refunded back to the service.
Hugh Bayley, MP for York Central, said the air ambulance should be treated "the same way the lifeboats at sea are treated".
A petition was started on 10 February by York resident Ken Sharpe, which now has more than 5,500 signatures.
Under EU rules, fuel used by lifeboats is zero-rated, but the provision does not extend to air ambulances.
The Yorkshire Air Ambulance charity spends about £5,000 a year on fuel VAT costs.
The charity has two helicopters, serving a population of approximately five million people.
'Big help'
The Labour MP has tabled a motion in the House of Commons, which he said has support from "dozens and dozens of MPs".
Mr Bayley said: "If they were paying the costs of an air ambulance out of public funds it would cost them many millions of pounds."
It costs the charity £7,200 a day to run the service in Yorkshire.
Paul Gowland, from the Yorkshire Air Ambulance, said: "We are constantly striving to raise the vital funds required to keep the Yorkshire Air Ambulances in the air and operational, therefore any reimbursements or donations would be very greatly received by the charity."