Mother's plea to missing York teenager Jordan Sullivan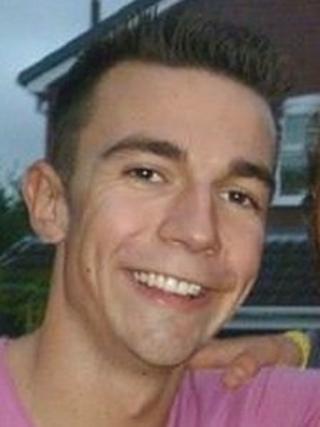 The mother of a missing York man has pleaded with her son to get in touch with the family.
Specialist police divers have been searching the river at Naburn, near York, for 19-year-old Jordan Sullivan, who went missing on Tuesday.
Mr Sullivan was last seen at about 09:30 GMT when he removed his clothing and ran towards the river.
His mother said she was "desperately begging" her son to make contact with the family.
Despite divers searching the river there has been no sign of Mr Sullivan.
North Yorkshire Police said other inquiries to locate Mr Sullivan would continue.
'Just come home'
Speaking from near the site where her son was last seen, Mr Sullivan's mother, Nicola Jobling, said: "I'm desperately begging you, you gorgeous, gorgeous boy, just to get in touch.
"Just let me know you are safe. If there's any issue, you know you can talk to us about it and you know it can be solved.
"Come on Jordan, you know I don't have to say I love you, just come home to your family."
She added: "I am appealing, as a mum, to anyone and everyone to come forward, if you have any information, no matter how insignificant it may seem, about where Jordan is now.
"If you have seen Jordan in this area on other occasions, please contact the police. It's not an area I was aware he knew or visited. Thank you."
Mr Sullivan is described as approximately 5ft 9ins, of slim build with a tattoo of a crucifix between his shoulder blades.