York school advertises after city's uni influx hits pupil numbers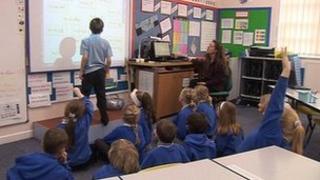 A North Yorkshire school says it has taken out a magazine advert to attract new pupils after a rise in university students moving into its catchment area led to a fall in pupil numbers.
Governors at Derwent Infant and Junior School in York said University of York students were renting homes in the area usually occupied by young families.
The school currently has spare places for about 30 children, governors said.
The university said it had "no control" over the private housing market.
'Enormous pressure'
Governors at the school, which currently has 131 pupils on its roll, said they hoped to attract about five new pupils for each class as a result of the advert, which was placed in York's Local Link magazine.
Roger Pierce, chairman of governors, said there had been a "major change" in the make-up of the local population as a result of a rise in the number of students attending York university.
"It puts enormous pressure on housing," said Mr Pierce. "Vacant houses which would have been occupied by families with young children are now being snapped up by investors and speculators to become student housing."
Janet Looker, Labour city councillor with responsibility for education in York, said the council had been arguing "quite forcefully" with the University of York to provide more purpose-built accommodation for students.
A University of York spokesman said it was an "over-simplification" to blame falling numbers at the school on the number of student houses in its catchment area.
"We have no control over the private housing market," he said.
"While the university does provide a substantial amount of on-campus accommodation, and we are planning more, students ultimately have the right to live where they wish.
"They contribute to the vitality of the community, not least through volunteering in many York schools."