York Minster service for murdered Caroline Stuttle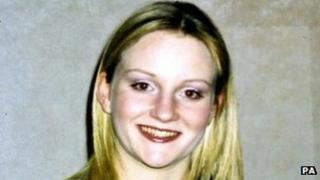 A service to remember murdered North Yorkshire backpacker Caroline Stuttle will be held on the 10th anniversary of her death, her mother has confirmed.
The 19-year-old student from York was robbed and pushed off a bridge at Bundaberg in Australia in April 2002.
Ms Stuttle's mother, Marjorie Marks, said everyone was welcome to attend the service at York Minster on 10 April.
"They can light a candle for Caroline and think about her for a moment," said Ms Marks.
'Missing piece'
The gap year student was killed by drug addict Ian Previte who was found guilty of her murder in October 2004 and is serving a life sentence.
Ms Marks said that while the service at York Minster marked a decade since her daughter's death, it was hard to believe that so much time had passed since the tragedy.
Ms Marks, who runs a charity in her daughter's name which aims to raise awareness of safe travel for young people, said the murder had left her "devastated".
"I would not wish it on anybody to go through losing a child. Losing anybody is difficult, but to lose a child is not the right way round," she said.
"Although we've done something positive, I will always have a missing piece in my life."
The service at York Minster will begin at 17:15 BST and will feature music and readings, said Ms Marks.
Ms Stuttle's brother, Richard, is also expected to speak during the service.