Craftsman Andrew Found killed by undetected bomb in Afghanistan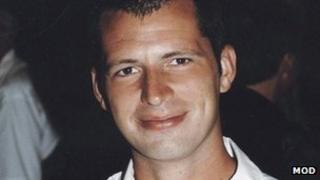 A soldier was killed in Afghanistan by one of three bombs an Army minesweeper failed to detect, an inquest heard.
Craftsman Andrew Found, from Whitby, North Yorkshire, died in an explosion in the Gereshk Valley last June.
Scarborough coroner Michael Oakley said the 27-year-old's death underlined that Taliban fighters had progressed from "rudimentary to sophisticated" warfare.
Recording an unlawful killing verdict, he said the Army's counter measures were "anything but foolproof".
After the hearing the Ministry of Defence said £200m was being spent on counter-IED (improvised explosive device) technology.
Craftsman Found, a father-of-two from the Royal Electrical and Mechanical Engineers, died while trying to rescue a vehicle which had been hit by another blast.
Devices 'clever'
The inquest was told he was in a so-called "safe area" which was supposed to have been checked for bombs when a second one went off, killing him instantly.
When a specialist team called Brimstone later arrived, with sniffer dogs and ground-penetrating radar, even they struggled to find two other explosive which were also in the swept area, the coroner heard.
Mr Oakley was told the "sophisticated" bombs represented a more recent type of threat as they were of such low metal content they were hard for the conventional Vallon minesweeper to detect.
The coroner said there was "absolutely no evidence" that operational directives were not followed.
'Top priority'
He said: "Brimstone had been requested but... were not going to be available so [Craftsman Found] was asked to do the recovery.
"It's clear that in the theatre of war both sides had become cleverer and cleverer and certainly the other side had got more clever with their explosive devices.
"What were fairly rudimentary devices maybe months or a few years ago are much more sophisticated now."
The coroner described the Vallon "as anything but foolproof as it turned out not to be tragically".
After the inquest, a Ministry of Defence spokesman said: "Countering the IED threat in Afghanistan is a top priority and we constantly evaluate the threat and respond accordingly to make sure our forces have the very best, state-of-the-art equipment.
"The announcement last December by the defence secretary of a £200m package of advanced counter-IED measures is the latest investment in technology to protect our troops on the ground."