Scarborough Hospital admits 'error' in patient fire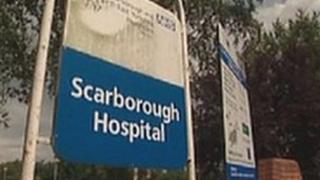 Scarborough Hospital has admitted an "error" led to a patient being set on fire during an operation.
A patient suffered "superficial burns" last week after a spirit-based antiseptic solution ignited at the end of a surgical procedure.
The hospital trust's chief executive, Mike Proctor, said the inflammable solution should not have been used at that stage of the operation.
Mr Proctor said the hospital had changed its procedures during surgery.
An investigation carried out by the trust said the incident happened when a surgeon was using a device called a diathermy unit, which uses high frequency electricity to seal blood vessels. The equipment can generate sparks.
'Lessons learnt'
Mr Proctor said the patient's wound was being cleaned with the spirit at the end of the operation.
"Some of the spirit soaked in to the drapes that were surrounding the patient's wound," he said.
"At that stage the wound started to bleed a little bit from the edge and he [the surgeon] used a diathermy to actually seal that blood vessel. In using the diathermy, that sparked and caused the drapes around the patient to catch light."
Mr Proctor added: "A water-based solution should have been used at that particular point of the operation.
"So it was an error. We've acknowledged that to the patient and we are putting in place things that will ensure that lessons are learnt from that."
The hospital said it would remove all spirit-based solutions from operating theatres before surgery starts.
The unnamed patient was treated for the injury and transferred to Castle Hill Hospital near Hull before being returned to Scarborough and discharged.