New NHS dental places in York and North Yorkshire created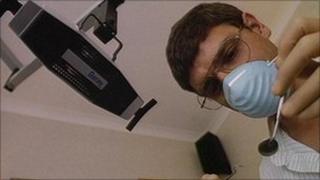 More than 10,000 new NHS dental places are being made available in York and North Yorkshire.
NHS North Yorkshire and York said the £5m investment would mean a cut in the number of people waiting for NHS dental treatment.
The majority of the new places will be in York where more than 7,000 people are waiting for access to an NHS dentist.
More than 3,000 patients will also gain access to orthodontic treatment.
The primary care trust said nearly 11,000 additional dental places would be created in York, 1,500 in the Selby district and 1,000 places in both Ryedale and Craven.
The trust said the cost of providing new places was about £1m.
Lorraine Naylor, assistant director of primary care services at NHS North Yorkshire and York, said: "The extra capacity means that current waiting lists, particularly in the York and Selby area, will be vastly reduced."
Access to orthodontic care, which treats the appearance, position and function of crooked or abnormally arranged teeth, is also being improved at a cost to the trust of £4.1m.