Scarborough Borough Council could move out of town hall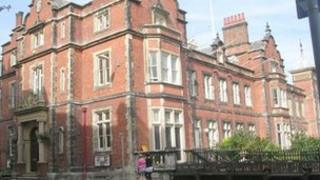 Scarborough's Victorian town hall could be sold after a review of council accommodation in the resort.
Borough councillors have been told the building could cost the authority more than £5m to maintain over the next 25 years.
The Home and Communities Agency (HCA) has offered the authority £3m towards the cost of buying new office accommodation.
Councillors are expected to consider the plan on 20 March.
Jim Dillon, chief executive of Conservative-run Scarborough Borough Council, said in a report to members that the town hall is not suited to modern working.
He added the ongoing maintenance costs of the building are expected to top £5.7m over the next 25 years and an estimated £1.7m would be needed for an IT upgrade.
'Good value'
The town hall was built as a private home in the 1840s and acquired by the council in 1899.
In return for the £3m investment, the HCA would be given an equity share in the redevelopment of the town hall and neighbouring Futurist Theatre site, which the council also owns.
Mr Dillon said: "The Homes and Communities Agency, which has replaced Yorkshire Forward as a driving force for economic regeneration, would be putting in a substantial amount of money.
"I believe this agreement not only represents good value for taxpayers, but will result in the accelerated redevelopment of the town hall and Futurist sites, bringing growth, new jobs and new expenditure into the town centre economy."
The HCA offer is subject to the council agreeing the deal before the end of March.