Highways Agency delay York Monks Cross stadium plans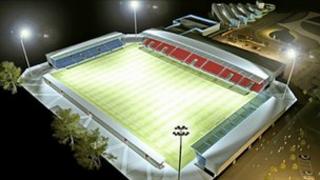 A decision on a major development on the edge of York could be delayed by up to six months.
The Monks Cross scheme includes proposals for a 6,000-seat community stadium and large retail units.
The Highways Agency has said "outstanding matters" affecting the road network must be addressed before planners consider the application.
The City of York Council and the developers said they were confident the issues could be resolved.
Developers, Oakgate (Monks Cross) Ltd, said the scheme, which also includes plans for Marks and Spencer and John Lewis stores, would create around 1,000 full-time jobs.
"Standard practice"
The directive from the Highways Agency means the Labour-run council cannot grant planning permission for six months unless the agency is satisfied that its concerns have been resolved.
Transport concerns relate to the impact of the scheme on the heavily-congested York outer ring road (A1237) and the nearby Hopgrove roundabout which links to the A64.
The council said the agency was not lodging an objection to the scheme and that the directive was "standard practice" in large planning applications.
Bill Woolley, director of City Strategy and deputy chief executive of City of York Council, said: "The notice is for up to a six month period and can be lifted by the Highways Agency at any point prior to this, when they are satisfied that all matters have been addressed."
Oakgate said it would work closely with the Highways Agency and the City of York Council to resolve the issues relating to the road network.