Group carries out clean-up of Scarborough's South Bay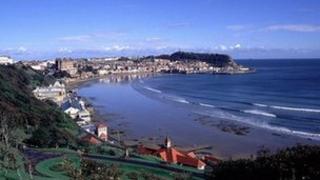 A clean-up of Scarborough's South Bay beach has been carried out by a group of volunteers.
It was set up as part of a national campaign organised by environmental pressure group, Surfers Against Sewage.
Organiser Steve Crawford, said a previous beach clean in the town had recovered a microwave oven, a fridge and parts of a computer.
Last week, a national survey reported an 11% decrease in the amount of waste on UK beaches.
Mr Crawford said the rubbish came from a variety of sources.
"Things come off boats," he said.
"There is obviously stuff which gets dropped on the beach and gets washed into the sea and that is a big problem.
"Only last week we found a baby seal on the bottom of South Bay and it had fishing line wrapped round its neck."
A recent survey by the Marine Conservation Society recorded an 11% drop in overall litter on UK beaches.
However, the same report said there had been an 11% increase in the number of plastic bags containing dog faeces.