Counsellors 'vital' for North Yorkshire schools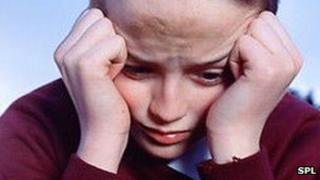 While most children feel sad, anxious or angry from time to time occasionally their problems can become more serious.
Data released by the government recently revealed that one in 10 children aged five to 16 has been diagnosed with mental health problems.
Cuts within social services mean some schools are now paying for counsellors out of their own budgets to tackle issues before they escalate.
Two part-time counsellors are employed at George Pindar Community Sports College in Scarborough.
Head teacher John Senior said he considered the expense a "vital" part of his budget.
He said: "No child achieves if they are unhappy, no child is going to do their level best if they are so concerned about things that are happening outside school that the world inside school has ceased to have any meaning.
"We have run the counselling service for the last nine years and the chances are that it's more likely to be expanded than diminished because children need to be supported to learn.
"When it comes to budgetary considerations there are things I'd rather do without than do without that level of support for young people."
Students at the school have spoken to BBC Radio York about what worries them.
One 14-year-old boy said he was concerned for his older brother's safety as he wanted to join the Army.
"I think that's quite bad because I don't want to lose him. You hear of people dying and you think that's going to happen to my brother and if it did I'd be shouting at people."
A 14-year-old girl said she had been affected by a family break-up.
She said: "Recently my mum and stepdad have split up so we've been told we have to move so I had to sell my dog and it's really difficult because going to school knowing that something's probably happening at home is quite difficult."
'Crucial issue'
The National Union of Teachers said the responsibility for students' mental health should not fall on schools.
Mike McDonald, the union's regional secretary, said: "The problem is it's an extremely specialist line of work.
"There aren't that many people around for schools to buy in privately and moreover the government suggestion of regional pay will only exacerbate this problem in the north."
The Department for Education said children's mental health was a "crucial issue".
A spokesman said public finances were "very tight" but it was investing £4bn in local authority children's services over two years and £30m in child mental health services to help deliver more counselling and talking therapies.
David Ellis, head teacher at York High School, said he felt it was the school's responsibility to support pupils in need.
He said: "Our job is to make a difference to the chances of the young people that we work with and obviously one way that we do that is to get them the very best qualifications that we can.
"But if young people are not coming to school prepared and ready to learn then that's clearly a huge barrier to them being able to achieve the kind of things that they want to achieve and we want them to achieve."
Mr Ellis said the pastoral team at his school consisted of skilled teachers who were very experienced in working with children with mental health issues.
He said the school counsellor works two days a week and he wished he could employ her full time.
"There is a need," he said.
"To be honest the more time that we have got the earlier the interventions that we can make. Often if you get young people to talk about their concerns early then the problem can usually be quite easily resolved."