Mother's fight to name father on birth certificate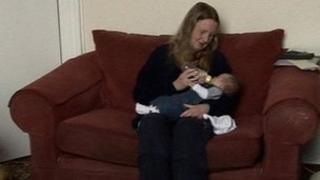 A Scarborough mother whose fiance died when she was pregnant is fighting for him to be named on their daughter's birth certificate.
Tammy Scott's fiance, Peter Wilson, died in 2011 when she was two months pregnant. Now their daughter is two months old.
Ms Scott will have to go to court to prove he is the father.
"All he ever wanted was to be a dad and not having his name on is denying that," Ms Scott said.
"It's denying he existed."
Ms Scott has applied for legal aid and said she intended to "fight all the way" to get Mr Wilson's name on the birth certificate.
In a similar case, a North Lincolnshire family spent six months and thousands of pounds to prove paternity with DNA tests.
'Matter for courts'
Ms Scott and Mr Wilson had been together for more than three years and were engaged to be married.
Ms Scott's solicitors and Scarborough MP Robert Goodwill have presented her case to the Home Office but were told her only option was to take the matter to court.
A Home Office statement said: "It is a matter for the courts to determine what evidence is required in order that a father's name can be added to the birth certificate.
"It is important that accurate information is recorded on birth certificates and in normal circumstances unmarried couples must both acknowledge paternity."
The law protects men from being wrongly named as fathers.
Unmarried parents must both self-declare to be registered on a child's birth certificate according to the Births and Deaths Registration Act 1953.