North Yorkshire cross-border crime crackdown launched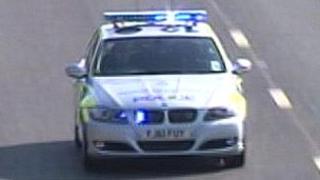 Police in North Yorkshire have launched a crackdown targeting criminals from outside the county.
Extra patrols using number plate recognition equipment would be used to identify suspect vehicles entering the county.
North Yorkshire Police said 30% of those it arrested came from elsewhere.
Temporary Assistant Chief Constable Iain Spittal said the operation would cause "major disruption" to cross-border criminals.
'Drive them out'
Mr Spittal said the force was "determined" to identify and stop criminals travelling into the county to commit crime.
"We have the intelligence and resources available to us to identify who they are and stop them in their tracks," he said.
"This operation will leave anyone thinking of coming to North Yorkshire and the city of York to commit crime in no doubt that we are ready for them and are determined to drive them out of our county."
Officers were also expected to link up with those from neighbouring forces to make sure as much ground as possible was covered during the operation, a force spokesman said.