Graffiti at St Leonard's Hospital 'attack on York heritage'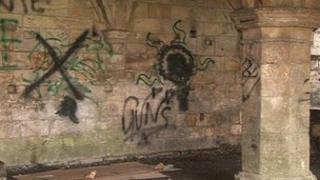 Graffiti daubed on the ruins of a medieval building in York has been described by police as "a disgusting attack" on the city's heritage.
Vandals used black paint and marker pen on the walls of St Leonard's Hospital, which dates back to the 12th Century.
A North Yorkshire Police spokesman said: "This is a disgusting attack on York's heritage and those responsible should be deeply ashamed."
He urged anyone with information about the attack to contact police.
Founded soon after the Norman Conquest, St Leonard's Hospital is believed to have been the largest medieval hospital in the north of England.
Remains of the hospital's undercroft, where the graffiti was found, can be accessed from the city's Museum Gardens.
Police said they were alerted to the vandalism on Thursday but did not yet know when the attack had happened.