York nurseries cleared by Ofsted after welfare inquiry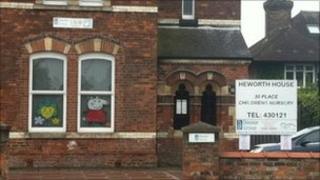 Two nurseries in York which were being investigated over concerns about care and supervision have been given the all-clear from Ofsted.
An inquiry started and six female members of staff were arrested after complaints were made about Heworth House and Little Joe's day nurseries.
Police later said no further action would be taken against the women.
In a report, Ofsted said the nurseries' owner had taken "prompt and appropriate action" to rectify all problems.
The City of York Council's Safeguarding Board also confirmed it had concluded its investigations into the nurseries.
The Ofsted report said inspectors who visited Heworth House found "suitable hygiene procedures were not being followed in relation to a mattress being used by children".
At Little Joe's, inspectors said "safeguarding policy and procedure was not implemented" and "the individual needs of children with learning difficulties and disabilities were not met".
'Keeping parents informed'
It said there had been complaints relating to safeguarding, promoting the good health of children, behaviour management, staffing arrangements and supporting children with disabilities at both nurseries.
The report said all concerns were discussed with the nurseries' owner and Ofsted was satisfied with action taken.
Ofsted said final inspections were carried out last month and the nurseries were found to be compliant with all rules.
A spokesperson for the City of York Safeguarding Board said: "The joint agency investigation into conduct at Little Joe's and Heworth House nurseries has been completed and the findings of the investigation have been shared with the nursery owner.
"We have been unable to update parents until the nursery owner had been made fully aware of the investigation's findings.
"We remain committed to keeping parents informed and are currently in communication with the owner regarding the next steps and we will provide an update to parents as soon as possible."