York man's petition to cut VAT on air ambulance fuel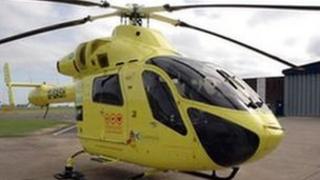 A York man has organised a petition calling on the government to cut VAT on fuel used by air ambulances.
Ken Sharpe launched the campaign on the government's e-petition website. The proposal has now received more than 100,000 signatures and could be debated in Parliament.
Mr Sharpe called the tax a "disgrace" and said that other charities, such as the RNLI, paid no VAT on their fuel.
The Treasury said the air ambulance benefited from other VAT exemptions.
Mr Sharpe said he was inspired to start the campaign after collecting money on behalf of the Yorkshire Air Ambulance at a bikers' rally.
He said: "I was talking to one of the fundraisers and he said to me 'of course you realise a big chunk of this will be going back to the government in VAT payment'.
"I was flabbergasted."
Paul Gowland, director of fundraising at the Yorkshire Air Ambulance, said the cost of the organisation's VAT bill on fuel is £6,000 a year, the equivalent of "a full day's running costs, which would equal three life-saving missions every year for us".
In a statement, HM Treasury said: "The government recognises the valuable role that the air ambulance services play in responding to emergencies.
"Rather than provide assistance through a grant system, successive governments have chosen to support charities with tax concessions such as gift aid and a number of VAT reliefs, such as being able to purchase medical supplies and equipment free of VAT.
"These are all exceptions to the normal EU VAT rules."