Archbishop of York on growing inequality and poverty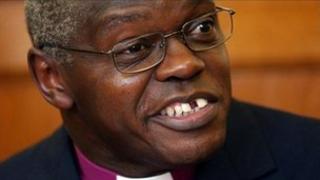 The church has an important role to play in tackling poverty and the impact of public spending cuts, says the Archbishop of York.
Speaking in Leeds, Dr John Sentamu said he had noticed the impact of cuts on visits across the north of England.
The second most senior figure in the Church of England urged the government to do more to promote social justice.
Dr Sentamu said all churches must act as a "voice for the powerless, the weak and the dispossessed".
The archbishop was addressing "the reality of poverty and growing inequality in our country" at the Church Urban Fund conference in Leeds.
'Misery growing'
He said the country faced a "poverty of vision" over how to transform society and address inequality.
Dr Sentamu said: "We are far richer today yet misery is growing.
"The current recession has led to significant cuts in public spending and services with more likely in the immediate years ahead."
The archbishop said cuts were being made where investment was most needed particularly in schemes to help the young, the elderly and the unemployed.
"At a national level, we need to witness clearly that our Government must promote social justice," he said.
"For when the Government puts the promotion of social justice at its heart, we can stand together as one nation, recognising the dignity of all and affording fair and equal opportunities for access and services."
The archbishop has spoken previously about excessive personal wealth, the high salaries of top executives and youth unemployment.