Harrogate police station offers behind-the-scenes view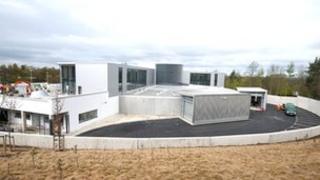 People in a North Yorkshire town have looked behind the scenes of a new £18m police station, days before it officially opens.
Harrogate police station took 14 months to build and replaces a station which was built in the 1930s.
North Yorkshire Police offered "one-off" guided tours around the station on Beckwith Head Road.
The site, which will accommodate about 200 officers, is due to become fully operational on 17 May.
Grahame Maxwell, North Yorkshire's chief constable, said the tours were likely to be the only chance for people in Harrogate to see most of the building.
He said they provided a "one-off opportunity to see inside our new, state-of-the-art police station, which is one of the most modern in the country".
A separate, smaller police station was opened in April on Victoria Avenue, Harrogate, to provide easier access to police in the town centre.