Thieves steal vehicle exhausts in Selby area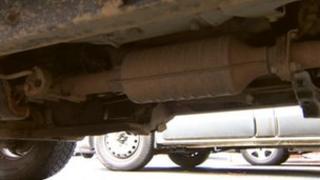 Thieves have stolen valuable exhaust parts from 18 four-wheel-drive vehicles in villages around the town of Selby in North Yorkshire.
Police said the spate of thefts had left many of the rural drivers needing repairs to their vehicles totalling hundreds of pounds.
The thieves have been cutting the catalytic converters from the vehicles.
Repairs to replace the exhaust emission control devices are estimated between £300 and £800 per vehicle.
Catalytic converters, which limit toxic emissions from vehicles, contain valuable metals, including platinum, palladium and rhodium.
One victim, Sue Fearnley, bought her four-wheel-drive vehicle because she needs to access rural land to tend to her horses.
She said one quote she received was for £800 "so it's quite a lot of money".
"It's half of your monthly income from a normal job, so it is very annoying," she said.
Insp Richard Abbott, of North Yorkshire Police, said the thieves were targeting four-wheel-drive vehicles because they had a higher ground clearance, and the exhaust was easier to access.
He said: "I would say to people, either garage your vehicle if you can, or park it under a well-lit area.
"But if that is impossible, look towards preventing the theft of the catalytic converter itself."
Police are also advising drivers to fit motion detecting devices that trigger if the vehicle is disturbed once secured.
Officers are visiting scrap metal dealers across the county as they try to locate the exhaust parts.