Law change call over North Yorkshire police payout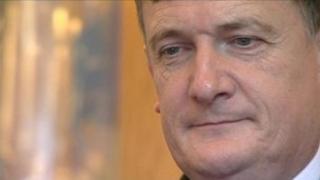 An MP is calling for a change in the law following a £250,000 payout to North Yorkshire's ex-chief constable.
Grahame Maxwell retired on Tuesday after his request to renew his fixed-term appointment was rejected. He had previously admitted gross misconduct.
The police authority was bound by law to give him £247,636 in compensation as he was required to leave before securing his full pension entitlement.
Conservative MP for Skipton and Ripon Julian Smith called the sum "shocking".
He said he would be raising the issue with Policing Minister Nick Herbert.
"I am meeting with him to make the case that never again will a chief officer guilty of gross misconduct be able to take these ridiculous sums of money."
'No option'
Home Office regulations require senior officers to be compensated if they are unable to complete 30 years' pensionable service.
Mr Maxwell would have completed that period if he had stayed in the force until 2013.
Jane Kenyon, chairman of the North Yorkshire Police Authority said: "That is what the law dectates under regulations and the police authority have had no option but to comply with it.
"It doesn't make a lot of sense to most people."
Miss Kenyon said she welcomed Mr Smith's decision to take the matter up with the Home Office.
An investigation found that Mr Maxwell helped a relative gain unfair advantage in a police recruitment drive for 60 jobs in 2010.
He also admitted assisting a member of his extended family and a relative of his deputy, Adam Briggs. Mr Briggs has since retired.
The police authority denied Mr Maxwell's request for a new contract four months later, in September 2011.
A Home Office spokesman said: "Police authorities signed up to these arrangements several years ago but we are looking at them again in the light of the recent Winsor Review.
"He recommended that misconduct hearings should have the power to remove all or part of a chief constable's severance payment and we have asked the Police Negotiating Board to consider this."