New homes plan for Selby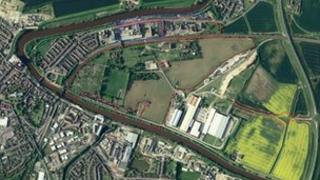 A planning application has been submitted for a £200m development on a 200-acre site in North Yorkshire.
Architects said Olympia Park in Barlby Road, Selby would have 1,000 homes and retail and sporting facilities.
Adrian Spawforth, the project's architect, said the challenges included making the development "sit sympathetically within the medieval and historical context" of the area.
The scheme to the east of the town was first started in 2003.
The 200 acre (81 hectare) site is crossed by the Leeds-Hull railway line. It includes some former industrial land and lies next to the River Ouse and has a view of Selby Abbey, founded in the 11th Century.
The outline planning proposals for the "gateway" site, owned by BOCM Pauls, include retention of the existing feed mill after the rest of the site is completed, a road bridge over the railway and new access into the site from the Selby by-pass.
The site has been the subject of flooding from the nearby river, most recently in 2000.
However, according to the development's website, the site can now be developed providing various flood measures are put in place.
Public consultation on the scheme is under way.
Selby has a current population of about 13,000 people.