Knaresborough funeral for Sadie Rose Clifford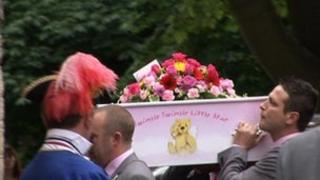 The funeral for a two-year-old girl who died from a rare form of cancer has taken place in North Yorkshire.
Sadie Rose Clifford, from Knaresborough, had neuroblastoma, a cancer that develops from nerve tissue.
Her parents, Katie and Darren Clifford, were told last month nothing more could be done and the toddler died on 25 June.
The service, at St John's Church, was relayed on speakers to mourners gathered outside the church.
More than £400,000 was raised for a treatment regime in the US for the toddler but it proved unsuccessful.
Donations have continued since her death and the Clifford family said the money raised would be used to help other children with neuroblastoma.
The Reverend Elizabeth Sewell said: "There is the amazing way that her family, with great courage, made her illness public and through that told people and raised awareness of this neuroblastoma, which is a really aggressive childhood cancer."
She added: "Today we celebrate Sadie Rose, we celebrate the bravery and courage of her family but also the incredible community support there's been for her."
A minute's silence in Sadie's memory was held in Knaresborough on 27 June.
The town's mayor, John Batt, said it had been an appropriate tribute from the town to a "brave little girl".