Scarborough's resident peregrines fail to produce chicks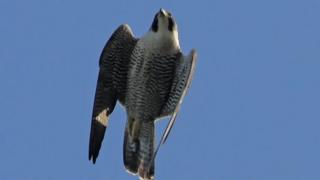 A pair of peregrine falcons in Scarborough have failed to produce any chicks for the first year since arriving in the town.
The pair arrived in the resort seven years ago and their chick-rearing habits had proved a popular annual attraction.
The RSPB provide a special viewing point for people to watch the birds during the breeding season.
The charity estimates there are only 1,400 breeding pairs in the UK.
A few months ago, the peregrines were thought be incubating a number of eggs on their cliff ledge nest above Marine Drive but without any warning they abandoned the site.
The cliffs at Scarborough, with craggy outcrops and secluded ledges, are considered a perfect location for the peregrines to nest.
Heather Davison, who runs the peregrine viewpoint for the RSPB, said: "It is disappointing that the peregrines failed to breed this season. This is the first time in seven years that the pair haven't successfully fledged chicks."
Ms Davison said it was hard to say what had caused the nest to be abandoned but bad weather during the spring and early summer could have played a part.