Army cuts: Yorkshire Regiment to lose Green Howards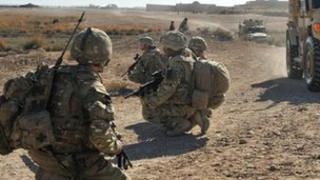 The Yorkshire Regiment is to lose one of its three battalions in cuts to the Army announced by the government.
The 2nd Battalion the Yorkshire Regiment, formerly the Green Howards, will be absorbed into the rest of the regiment in autumn 2013.
The battalion's headquarters are at Richmond, North Yorkshire, and it recruits in the county and Teesside.
John Blackie, the independent leader of Richmondshire District Council, said he was "very, very sad" to hear the news.
On 12 June Patrick Mercer, Conservative MP for Newark who broke the news about changes to the regiment, told BBC News his information had come from the "well informed grapevine" inside the Ministry of Defence (MoD).
Mr Mercer said it was a "sad day" when the armed forces faced cuts.
'Very, very sad'
Ceremonies of remembrance were held across the county to mark the lives of six soldiers, five from 3 Battalion, the Yorkshire Regiment, over recent weeks.
They died when a bomb exploded under their vehicle in Helmand province in March.
Speaking about the change and loss of 2 Battalion, Mr Blackie said it was all the more poignant because Catterick Garrison, the large British Army base, was within the council's area.
Mr Blackie said: "It's very, very sad and most unfortunate.
The Green Howards has a long and deep-seated connection to the town of Richmond and the district of Richmondshire.
"We host the largest garrison in Europe - we host that super garrison [at Catterick] and we are very, very disappointed to hear this news.
"It will be a disappointment the length and breadth of North Yorkshire.
"There's a long tradition of connection with the armed forces in this area.
"The regimental museum is dedicated to the Green Howards.
"That's how deep-seated connection there is between the community and the regiment."
Former soldier Maurice Hamilton, 84, speaking in Richmond, said: "I think it's wrong, personally, they're a famous regiment.
"It's just a fob to get rid of them.
"I think they're [government] cutting too much, they're going overboard."
Also in Richmond, a second former soldier Michael Russell said: "I'm not happy at all.
"Disbanding the Green Howards would destroy a lot of tradition."