Great Yorkshire Show parking limited following rain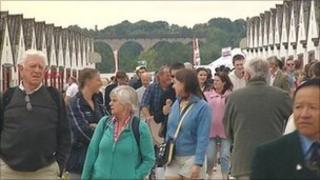 Recent heavy rain means parking spaces at the Great Yorkshire Show will be limited, organisers have warned.
The Yorkshire Agricultural Society (YAS), which runs the annual show in Harrogate, said much of the land used for parking was waterlogged.
The society said it had added a new park-and-ride system and urged visitors to use public transport where possible.
The agricultural show, which attracted more than 135,000 visitors in 2011, begins on Tuesday.
Nigel Pulling, chief executive of the YAS, said: "We've never cancelled the Great Yorkshire Show because of the weather and have no plans to do so.
"Everyone is very aware of the difficulties the rain has caused up and down the country and our ground is also suffering from the wet.
"The showground itself is holding up extremely well with many exhibitors' stands in place, however our car parking adjacent to the site will definitely be much reduced."
Mr Pulling urged visitors to use the new park-and-ride system at Plumpton Bar on the A661, south of Harrogate.
He added: "We would urge people to also think about car sharing or using public transport."
Show organisers are regularly updating its website with details of park-and-ride services, car parking and train services.