John Sentamu attacks 'derisory' milk prices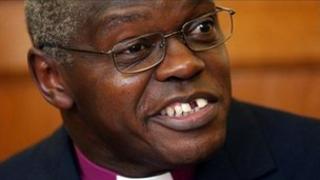 The Archbishop of York has accused shoppers and supermarkets of paying too little for their food.
The comments from Dr John Sentamu follow protests around the country over the amount of money farmers are paid for milk.
The archbishop said supermarkets were paying a "derisory" amount and consumers should pay a fair price.
British Retail Consortium (BRC), which represents supermarkets, said they were the wrong targets in the campaign.
Recent protests at leading dairy processors followed announcements of cuts, of up to 2p per litre from 1 August, in the price they pay farmers.
'Unfair situation'
Dr Sentamu said: "I know everyone is feeling the pinch in their pocket during this long recession, but really how can we expect to pay less for our milk than say a bottle of mineral water or cola?
"The supermarkets have got to pay farmers the right price, particularly when it comes to milk.
"What they pay now is derisory. But as customers we should not collude with this - it simply isn't a fair situation at the moment."
The archbishop argued that a Fairtrade mark for British goods should be introduced.
Stephen Robertson, director general of the BRC, said: "Currently, 11 of the top 12 best-paying milk contracts are paid by supermarkets.
"Supermarkets and their customers can't consume all the milk produced by UK dairy farmers.
"The questions the archbishop should be asking are about the vast quantities of British milk used by manufacturers, caterers and the public sector.
"What price goes to the farmers who supply the milk that ends up in schools, hospitals, and prisons?"