Fresh paint for record-breaking steam locomotive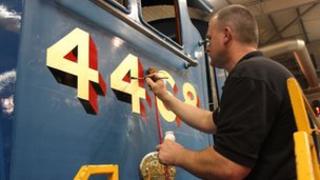 A record-breaking steam locomotive has been re-painted at the National Railway Museum in preparation for its 75th anniversary.
The Mallard has been been given a fresh coat of its iconic garter blue paint.
Events will take place in 2013 to mark 75 years since the machine broke the world record for steam traction.
Part of the celebrations will be a line up of six of the surviving A4 locomotives in the world.
On 3 July 1938 the Doncaster-built 4468 Mallard broke the world speed record by reaching 126mph.
'National treasure'
The Mallard was in service until 1963 when it was retired having covered 1.5 million miles.
The museum marked the 50th anniversary of the Mallard's record in 1988 by returning the locomotive to working order to operate a number of special trains.
Ian Hewitt, from Heritage Paint, the company which carried out the repaint, said: "When you're working on these locomotives all day you are so focused on applying paint on to metal evenly that you forget the true significance of what you're working on.
"It's when you get to the specialist stuff, the finishing touches at the end that you realise that a national treasure is in your hands."
Steve Davies, museum director, said an international reunion of the A4 locomotives was chosen as "the most spectacular way to mark the 75 year milestone".