BBC gardener Geoffrey Smith has rose named after him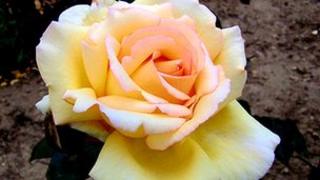 A new rose has been named after a BBC gardener who helped establish North Yorkshire's landmark gardens.
The creamy yellow rose, Rosa "Geoffrey Smith", will be officially launched at Harrogate Flower Show on 14 September.
Geoffrey Smith presented BBC Gardeners' World and appeared on BBC Radio 4's Gardeners' Question Time for nearly 20 years.
The rose's highly fragrant blooms are said to flower from May to October.
Climbing variety
At the age of 26, Smith became superintendent of the Royal Horticultural Society's Harlow Carr gardens in Harrogate. He worked there for 20 years.
Caroline Smith, Geoffrey's daughter, said the family was "delighted" that he had had a rose named after him, particularly a climbing variety.
"Unlike the more formal floribunda or Hybrid T, a climbing rose goes its own way and that's just the way [my Dad] was throughout his life," said Ms Smith.
Martin Fish, director of Harrogate Flower Show which takes place at the Great Yorkshire Showground, described Mr Smith as "one of our most prominent and popular horticulturists".
"His love of gardening was possibly only rivalled by his love of Yorkshire," Mr Fish added.
Smith lived at High Birstwith near Harrogate and died in 2009 at the age of 80.