Rain brings huge financial loss for Scarborough Cricket Club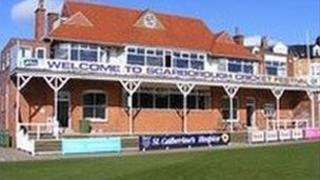 Scarborough Cricket Club is expected to make its biggest financial loss ever because of the wet summer weather.
Club chairman Bill Mustoe said up to £20,000 had been lost for each day that had been rained off this season.
He said: "It's been a massive hit for us as a club. We've just had to pick ourselves up and think about next year and think positively."
The club is hosting the final day of the annual Scarborough Cricket Festival at its North Marine Road ground.
Across the UK, experts claim it will be the wettest summer in 100 years and the second wettest on record.
Speaking to BBC Radio York, Mr Mustoe said: "It has been awful.
"We're probably going to post one of the biggest losses we've ever done."
Mr Mustoe said the losses were so high because the club had to assume play was going to happen.
"We have to have a minimum number of safety officers on the ground and stewarding.
"You have to assume play is going to go ahead so you get those costs whether you like it or not. You can't dodge the bullet I'm afraid."
Scarborough Cricket Club was founded in 1849 when the first cricket matches were played on Castle Hill.
The ground today is at North Marine Road and is second only in capacity cricket to the Test Match venues.
It hosts Yorkshire County Cricket Club for a number of four day and one day matches, including the Scarborough Cricket Festival, which is in its 126th year.