St Martin's clock restored to York's Coney Street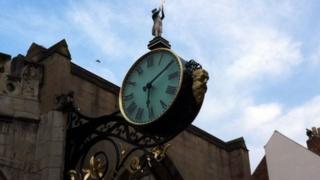 A church clock in York has been rededicated after a major restoration project.
St Martin le Grand on Coney Street has had a clock since the 17th Century. The current one was designed in the 1850s.
The clock was removed for restoration work, which cost £54,000, in November 2011.
The church was badly damaged by bombing in World War II and the clock was last restored when the church reopened in the 1960s.
The clock has been redesigned many times since it was erected in 1668 and a revolving figure of a naval officer was added in 1779.
Renovation work was carried out by the Cumbria Clock Company at Penrith and the restored clock will now strike the hours and chime every quarter for the first time since 1942.
The service of rededication was led by the Archdeacon of York.
The Venerable Richard Seed said: "I am delighted to be able to welcome the clock back to Coney Street.
"Churches hold so much of our heritage and history, and caring for and enhancing it is a task which congregations take on willingly.
"York would be so much poorer without it and future generations of residents and tourists will be pleased that so much care was taken to ensure that the best possible job was done."