Offenders to repair gravestones and memorials in Scarborough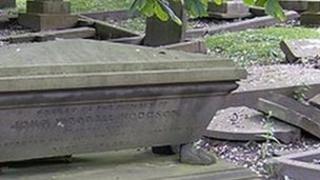 Gravestones that have suffered the ravages of time or fallen over are to be repaired by people serving court sentences.
Two cemeteries in Scarborough will have the memorials and gravestones repaired by offenders on a community payback scheme.
A council spokesman said more than half of the memorials at Dean Road and Manor Road had suffered some damage.
Some of the stones have been laid flat for safety reasons.
Council officer Roger Burnett said: "It is a really exciting project to be involved in even though it will probably be many years before we can say we are finished."
The Friends of Dean Road and Manor Road Cemetery, who work to upkeep the area are also involved in the project.
The group will be holding a Celebration Open Day at the cemetery on Sunday from 11:00 until 15:00 BST.