Renewable energy centre plan for Kellingley Colliery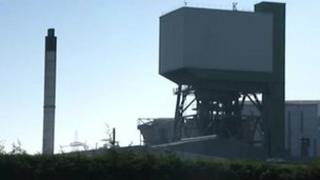 A £200m renewable energy facility could be built at Kellingley Colliery in North Yorkshire.
The scheme was announced by Peel Environmental, which said it would submit a planning application in early 2013.
The centre would convert up to 280,000 tonnes of non-hazardous waste into energy per year.
If approved, the Southmoor Energy Centre would create up to 38 jobs, the company said.
Peel Environmental said the centre could provide a low-cost, stable energy supply to Kellingley Colliery helping to cut costs.
Richard Barker, development manager at the company, said: "If built, our proposed energy centre will operate an efficient combined heat and power system, using waste as a fuel to release energy.
"Our scheme, which is entirely privately funded, will also make use of existing industrial land, its excellent transport links and an existing electrical grid infrastructure which will be able to accept an additional 26MW of power without the need for any upgrades."
The plan has been developed in consultation with UK Coal which owns Kellingley.