HMS York arrives at Hull docks on last Yorkshire visit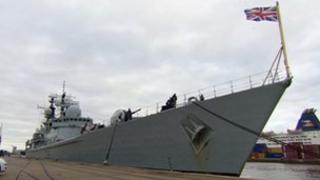 HMS York has arrived in Hull on a final visit to its adopted region before it is decommissioned.
The Royal Navy said the Type 42 destroyer was being sold as "it was at the end of its natural life".
The ship is affiliated with the city of York and its crew will take part in a series of parades and other events at the weekend to mark its departure from service.
Members of the public will be able to visit the warship in Hull docks.
Surface fleet cut
HMS York entered service in 1985 and was deployed in the 2003 Iraq war.
In 2011 it supported operations during the revolution in Libya.
The Royal Navy said the event was also a homecoming visit for many of the crew, "with members of the ship's company from Hull and the surrounding area, as well as North Yorkshire".
HMS York and its sister ship HMS Edinburgh have been listed for sale on a Ministry of Defence website.
The ships are being sold as part of the government's Strategic Defence Review announced in 2010, which will see the Royal Navy's surface fleet cut from 23 to 19 ships.