Heworth House nursery owner considers legal action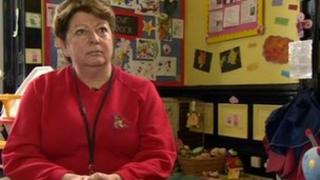 A York nursery owner has claimed she has been forced to close following a child welfare investigation after concerns were raised about the quality of care of the children.
Heworth House was cleared in April after an eight-month inquiry by Ofsted and the city council.
Owner Lynne Drydal said the investigation had ruined the business after parents removed their children.
She said she was now considering legal action.
The inquiry started after six members of staff were arrested following complaints about Heworth House and another day nursery owned by Ms Drydal.
After reviewing the evidence, the Crown Prosecution Service said no action should be taken against the six women.
Speaking on behalf of Ms Drydal, her solicitor Mark Burn said: "The accusations which were made, the investigations, resulted in the numbers falling below the minimum which Lynne would require to maintain the nursery in a proper and efficient manner.
"She could not just continue. Because, unfortunately, dare I say, people have come to conclusions and for one reason and another now she was not able to reverse the trend."
Ofsted said there had been complaints relating to safeguarding, promoting the good health of children, behaviour management, staffing arrangements and supporting children with disabilities at both nurseries.
In its report, Ofsted said the nurseries' owner had taken "prompt and appropriate action" to rectify all the problems.