What next for the struggling NHS in North Yorkshire?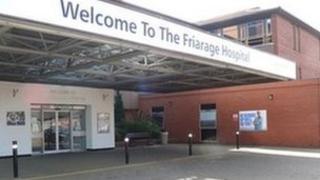 The NHS in England is in the middle of the biggest reorganisation since its creation.
As part of that process, the legal responsibility for managing most of the NHS budget will be handed over in April 2013 to a number of new organisations both locally and nationally.
In the long term, the NHS may look very different.
The changes to the health service will be keenly felt in North Yorkshire where new GP-led Clinical Commissioning Groups (CCGs) will need to find a way to tackle severe financial problems.
They will inherit a deficit from the old Primary Care Trust (PCT) of at least £19m and will also need to find additional NHS savings of £55m per year.
Financial lifeline
NHS North Yorkshire & York - the outgoing PCT - has always struggled to make its budget of £1.2bn stretch to meet all the health care needs of the county.
Just days ago, NHS North Yorkshire and York announced a range of medical services in the county were under review as it attempted to cut £10m from its deficit.
Changes to non-emergency operations and some outpatient follow-up appointments were also announced as well as a public consultation over proposals to scale down maternity services at the Friarage Hospital, Northallerton.
Over the last five years, more than £100m of bailout money has been provided to NHS North Yorkshire and York by the Strategic Health Authority (SHA), but from April 2013 the SHA will cease to exist - and with it so will that financial lifeline.
Four new clinical commissioning groups, which are led by family doctors, will take over the purse strings in North Yorkshire in April and become responsible for around 70% of the region's health budget.
Ageing population
They will face an enormous challenge as they attempt to balance the books in a part of the world that has always struggled.
North Yorkshire's problems are mainly down to the size and rurality of the county. It has low levels of deprivation, so attracts low levels of funding per head of population from the Department of Health.
It also has an ageing population, which places extra demand on services and there is an over-reliance on expensive hospital care for some services that could be treated closer to home.
Plans to tackle the deficit are being worked on by the new Clinical Commissioning Groups.
The detail of these plans should be published before the end of the year.